Meet Our Staff
Mission
Adelante's mission is to empower Hispanic/Latino youth to achieve their dreams and contribute as creative and educated world citizens.
History
Founding and Purpose: 2004
Over the last decade, our Latinx student population in Louisville has increased by more than 300%. These students represent the fastest-growing demographic in Jefferson County and will become the driving force in our city's long-term economic health and cultural vibrancy in the coming years. The success of our welcoming city will be closely tied to the success and well-being of our diverse Latinx community; we must ensure these students have every opportunity and resource they need to succeed.
Adelante Hispanic Achievers was created specifically to support and empower these individuals, Louisville's Latinx youth and their families, helping them succeed in four critical areas of development: personal, social, cultural, and educational. Adelante was founded in January 2004 by former JCPS school board chair Stephen Imhoff and a core of community leaders who shared the belief that, with resources and guidance, every Latinx student could achieve her dreams.
Creating a Standard of Excellence: 2005-2017
Included among that initial group of Louisville leaders was Adelante's founding Executive Director, Mara Maldonado. In 2005, Mara volunteered to lead our first program, a Mentoring & Enrichment program for 25 middle school students two Saturday mornings every month. As our first ED, Mara worked tirelessly to recruit students and families, create our program curriculum, and secure crucial funding and community support. From there, Adelante grew in direct response to the needs and desires of our Achievers and families. Mara soon began offering our Saturday program every weekend, added an After School Tutoring program to support students' academic growth, and continued building partnerships with JCPS and other community organizations to offer our Achievers an engaging range of resources and opportunities.
Mara expanded Adelante from that fledgling group of 25 students to serve 135 students from 6th - 12th grade across six programs every week, making a positive and lasting impact in the lives of over 600 Latinx youth. During this period, Adelante received several awards: a 2012 Pyramid of Excellence award from Louisville's Center for Nonprofit Excellence, a 2015 national "Bright Spot in Hispanic Education" designation from the White House Initiative on Educational Excellence for Hispanics, and recognition in 2017 and 2018 as a national "Example of Excelencia" Finalist from Excelencia in Education. For 12 years, Adelante steadily advanced under Mara's leadership establishing a standard of excellence that benefited our community and made a lasting impact in the lives of so many Achievers and families.
Awards and Recognitions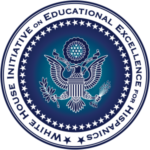 2015 Bright Spot in Hispanic Education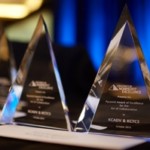 2012 Pyramid Art of Excellence in Governance Award