Important Events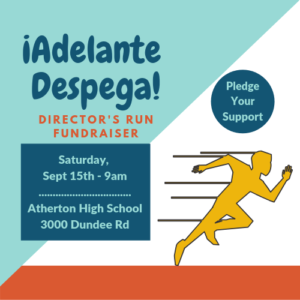 ¡Adelante Despega! Director's Run Fundraiser
Our Executive Director is pushing his personal limits on Sept. 15th, running on Atherton High School's track to raise funds and ensure that our Achievers have every opportunity to succeed! We are asking you to sponsor his run at $10/mile or whatever amount works for you. You can follow this link to pledge your support! We hope you will also join us on Sept. 15th to cheer for both Dustin and Adelante's mission.
¡Adelante Despega! Festival Fundraiser
Join us on Saturday, September 15th 10:00am – 2:00pm at Atherton High School to kick-off our program year with a community event and fundraiser! Meet our students, families, and the Board of Directors and enjoy some great food, music, dancing, and festival games! You can purchase your tickets for the festival and show your support of Adelante here.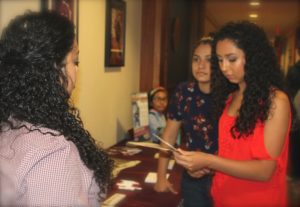 Adelante's 4th Annual Latinx Education Expo!
Since 2015, Adelante has hosted an annual Education Expo for Louisville's Latinx students and families. The fully bilingual Expo is a family event, free of charge and open to the community. The format includes informational tables and separate tracks of workshops for students entering high school, entering college and for their parents. Workshops are in Spanish and English and led by faculty and staff of high schools and colleges from around the region. The Expo supports Adelante's overarching goal to close the academic and cultural gap of low-income, first-generation-to-college Latino students.
Stay in the Loop!
For the most recent Adelante News & Events please subscribe to our Newsletter
[calendarizeit calendar='adelante-events' defaultview='month' header_center="" header_right="month,agendaWeek,agendaDay,rhc_event" header_left="prev,next" ]
2017-2018 Season Highlights
Brayan Aviles, Andrea Brito, and Luis Garcia received the Benjamin Templeton Scholarship, a full-tuition 4-year award, from Hanover College. As one of our College Allies, Hanover College commits to award this scholarship to one graduating Adelante student, but this year we had three students who were awarded this scholarship.
Adelante hosted our 3rd annual Latinx Education Expo. This year we had the privilege of hosting our event at the Phoenix School of Discovery, which has newly been designated ESL Newcomer Academy for the 2018-2019 school year. We are proud to say that we had three times as many high school and college representatives at our education fair, that represented public and private institutions and showcased relevant programs, scholarships, and university opportunities.
Adelante Hispanic Achievers was recognized in DC by Excelencia in Education as an Example of Excelencia finalist, which is the only national effort to recognize programs that use evidence-based practices to accelerate Latino student success in higher education.